The Mohawk Outdoors Project
Late last year, I had the pleasure of working on a design for Mohawk Outdoors. Mohawk Outdoors is a community for people who love the outdoors and want to help our combat/wounded veterans.
Design with Purpose, for a Purpose
It's not everyday that we get the opportunity to work on a project like the Mohawk Outdoors project. Mohawk Outdoors is a non-profit set-up to help combat/wounded veterans through outdoor social activities and adventures. Towards the end of the year, one of my good friends, Nick Pruitt, reached out to me and asked if I'd be interested in helping him create a new design for Mohawk. Of course, I was thrilled to work on the project, so I jumped on board. I try to design with purpose daily, but it's a privelege (and resposibility) to design for a purpose.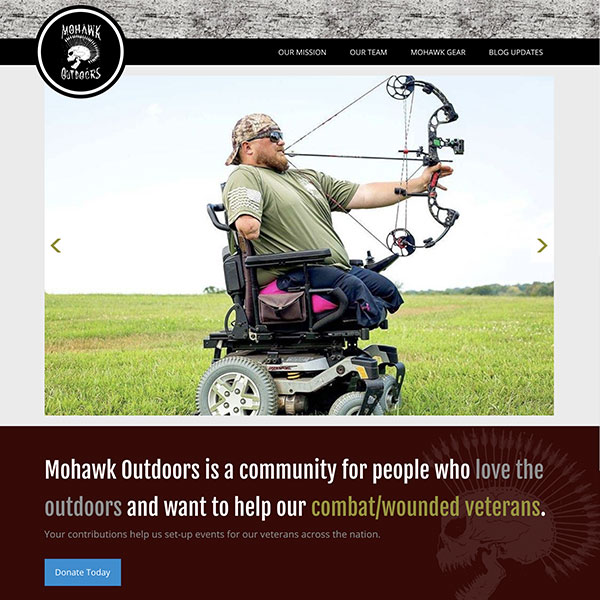 Informative and Digestable
In terms of responsibility, we felt that we felt that we had a duty to help present the organization in a way that was informative, but also simple and easy to grasp. We didn't want to overcomplicate the design, and we sought to match their existing branding guidelines.
To help highlight the message, we created a large callout directly below the homepage slider that emphasizes the mission statement for Mohawk. We utilized large font sizes on the callout and some simplified imagery to help make the content easily digestable.
Work that makes you feel good
Mohawk was one of those projects that just made me feel good working on it. I felt as though we delivered a site design that met all of the goals established by the Mohawk team. Yet, more importantly, we were able to contribute our design skills to a worthy cause that helps wounded veterans.